Dave Steffen – guitar
Davey Pattison – voice
Bill Lordan – drums and percussion
Steve Olschesky – bass
DS:

Bill Lordan, the drummer on several Robin Trower albums, was my drummer through most of the early 90s. He liked the drum beat on Whisky Train, and I liked the song, so we started playing it live in the San Francisco Bay Area clubs.

The audiences loved the way we rocked out on the song – loud and powerful for the end of the show. It went over well. We recorded the song on our first CD. I had the opportunity to play the recording for Robin at a local Bay Area club before it was released on the CD.

Davey Pattison, singer for Trower, at the time was doing an acoustic duo with me at a local venue. Robin was sitting at the bar and I slipped the recording in the cassette player without Robin knowing we had recorded his song.

Robin looked around kind of puzzled. I went over and asked his permission to use the recording on my CD. He smiled and approved saying, 'Sounds pretty good'.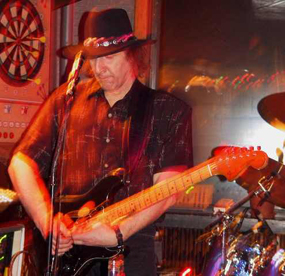 Dave Steffen's picture by Francis McIntyre, Texas
Dave uses the Fender Strat that he has had since 1982, and Mesa Boogie.
Recorded in San Francisco at Hyde Street studios, this track first appeared on the Dave Steffen Band's 1993 album, Give me a Thrill, on False Dog records. It was engineered by Matt Kelly, assisted by Ross Yeo.
Order here