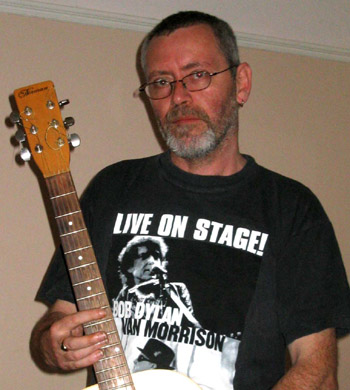 John Edgar – vocal
Gary Shepard – all instruments
John and Harry Oakes – speaking
Peter Clare, Roland Clare – gasps etc

RC:

I first toured with John in the mid 1970s, though we haven't played live together since a Jordanian benefit in the early 90s. When Gary Shepard sent me his In Held instrumental track I thought John's voice would be ideal for this brief whimsy. The Oakes brothers – no strangers to the circus – dropped in their twin spoken lines, and two Clares needed no urging to gasp at John's vocal feats: he even replicates the Commander's famous nimbo-faecal Spoonerism ...

Segue to

Hulluuteni Syksy
Gary's gear in the USA: Paul Reed Smith guitar, Korg AX1500G effects processor, Carvin 8400 powered mixer, Boss BR-1180 digital recorder, Yamaha Motif 8 keyboard, and a nameless but useful bass guitar. Spoken parts were added in various locations, and the singing was done in Bristol using Sennheiser 421, Cakewalk, and domestic PC. John's guitar in the picture is solely for posing purposes.