Dave Lee – voice and guitar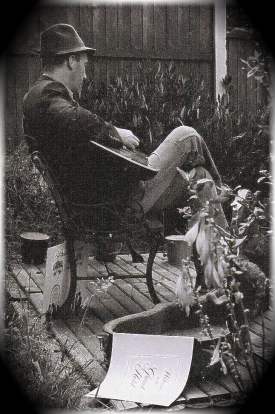 DL:

I always envisaged buskers singing A Souvenir Of London outside subway stations, but as I don't live in London, getting the right sound might have proved tricky. But I borrowed a very classy semi-acoustic guitar – an Ovation Balladeer – and set off for The Gaolhouse studios.

After I'd laid down some sloppy busker guitar, Chris Moyden (co-producer, general genius, and drummer in prog rock band

Final Conflict) had me standing outside in the courtyard to get some vocals 'with a street-sounding ambience'. [The building used to be an old town army barracks, and the Gaolhouse used to be ... well just that.] Wearing headphones that dangled from a very long cable extension, and microphones set up from several distances away, I made my way through only two takes before the voice gave up.

As the summer light began to fail, the attendees of the evening art class peered out into the gloom to see who was wailing away seemingly unaccompanied between their parked cars. And then it started to drizzle (if you listen carefully, you can hear me moaning about it to Chris, who remained snug in his control room, apart from appearing with some coins to throw at me at the end of the first take). As I was finishing the second take, some of the art class walked past me and drove off! You can actually hear me dodging their cars as they attempted to back out of the tiny courtyard car-park. No respect for the artist, ha!
The detached voice that you hear at the beginning and end is what was picked up by a forgotten courtyard microphone from several metres away. But the rest of the ambience? Well, despite all those microphones, we didn't feel we'd captured a lot, apart from me getting slightly moist and being run down by cars. So Chris pulled down a magical CD called something like Sound-Effects of the 1980s, and there they both were: 'Euston Station' and 'Brent Cross shopping centre', which to the uninitiated are both in London. It all ties in, you know.
The idea (says Chris) was to make it sound like I'm walking across the concourse, already singing away ... then walking off to buy a ticket home (cue ticket machine at very end). So this is your souvenir of London.