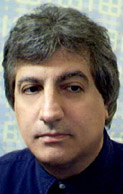 Ronnie D'Addario Ė voices and instruments

RD:

Iíve always loved this song, but missed the organ, in general, on the Strange Days album. The synth strings also sounded a bit thin to me. So I produced it more the way I thought Procol might do it, only with more harmonies, because I like harmony.

I threw in a bunch of fun references, to make some tributes within a tribute. Can you pick out the Salty Dog drum fills? Or Homburg and Repent Walpurgis drum parts? I put in a little Rambling On piano and even a Beatle lick, but Iím not saying what song: you have to guess. Journeyís End makes its way in there too. Wreck of the Hesperus inspired the horns. I donít usually put that much delay on my voice, but that was part of my Matthew tribute. My main instrument is guitar but I just didnít hear one for this recording. I thought maybe an acoustic rhythm Ö but then I felt it would clutter the track.

She Makes Me Feel is a nice idea for a song, a great title. I had a good time recording it.
Sound module: Proteus 1 plus orchestral
Keyboard: Fatar SL 161
Software: Cakewalk
PC: Dell
Sync: Mark of the Unicorn Midi Express PC (smpte)
Vocals recorded on Teac 80-8 (Ĺ" analog tape)
Compressor/Limiter: DBX 160 X
Reverb: Alesis Digital Reverb XT
Delay: Alesis Microverb III
Mixing console: Studiomaster 16-4-2 (analog)
Mixdown machine: Tascam DA-30 DAT machine
Speakers: Yamaha NS-20M