Someone once defined originality as the ability to conceal your sources. Well, there's no concealing the fact that From Shadow to Shadow is a loving tribute to the music of Procol Harum and its various members. I suppose, on one level, the tracks could be judged by the degree to which the source has been concealed … but, then again, re-interpretation of the songs (to some degree) is an inescapable feature of the project.

Herein lies a dilemma: is this a tribute album or is it an album of cover-versions? How do we define what a tribute album is? I've heard many tribute albums that contain songs that certainly wouldn't fall into the 'tribute' category by virtue of the quality of the work – is it really a 'tribute' to simply re-hash a great song with inferior performance and lack-lustre arrangement? Does a tribute album have to be 'as good as' the music that is being honored? Almost by definition, it can't be!

And yet, sometimes, the 'tribute' can transcend itself and produce unique variations of the songs that inspired the project – interpretations that celebrate the original and reveal new layers of a song's un-tapped potential. Happily, I can say that this has happened here.

The unique situation with From Shadow to Shadow is that it is, specifically, a loving tribute – with emphasis on the word 'loving.' These are songs created by the band that we all love, re-invented by our community of fans – our brother and sister Palers … our siblings in the family Procol. So, sibling rivalry aside, I offer observations tempered by the fact that we're all friends here. It's somewhat like a father looking at the portraits his children drew on Fathers' Day – some are better than others, but they all get put on the refrigerator door. From Shadow to Shadow is that refrigerator door.

So, is this a tribute or a collection of covers? Well, it's both. How do we judge a tribute album? I tend to ask myself two questions:
Has the artist kept the integrity of the composition? Is the essence of what made the song great still in there somewhere, or did it get lost?
If I'd never heard the original, would I give this a second listen? Oooh – tough question, there. Fortunately, there are several tracks on Shadow that you will want to hear again and again.
Obviously, the forty tracks here represent a wide range of styles, ideas and abilities. To actually critique each would be a mammoth task, and one that would involve at least a three-level criteria for judgment (at least the way I approached the individual songs): First, the arrangement – did the artist's approach enhance the composition or work against it? Second, the instrumental performance – was the execution of the song pleasing, exceptional, or … otherwise? Third – the vocal performance (if any) – Gary's a hard act to follow, but was the vocal interpretation enjoyable, adequate, or … interesting?
I'm going to do a general overview of my impressions of Shadow with special honorable mention to specific tracks. I plan to concentrate on the positive – put down those pitchforks.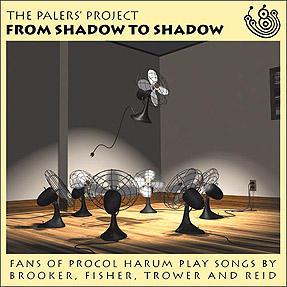 To begin, let me mention the packaging – I was pleased to see that the double CD set came in a very nice double jewel-box and had a very complete and professional appearance. The tray, back cover, and insert are attractive and full of detailed information. The cover illustration is an absolute masterpiece! Outstanding job by Gerry Guthrie – this is exquisite work, and – for some reason that I can't quite understand – seems to say 'Procol Harum' as well as any other 'official' Procol cover art ever has. Bravo!
The CD starts in a very impressive way with a great version of Whisky Train. No gimmicks, nothing 'cute' here – just good, bluesy rock and roll. This is a great way to start an album.
The album proceeds through a wide array of styles, from bluegrass (So Far Behind) to bossa nova, folk and flamenco. Roland Clare and friends provide mini-musical puzzles as you try to figure out which melodic licks from Song A are referenced from Song B. I'm sure I've missed some, but what fun it is to hear echoes of Backgammon in the samba-like version of Lime Street Blues! … And did I hear some Ghost Train in … well, I'll let you find it when you listen.
The instrumental version of The Emperor's New Clothes is stunning and reinforces my feeling that this is one of Gary's finest compositions! Bravo, Peter Skorpik!
Your Own Choice manages a clever reconstruction of the song, while retaining the integrity of the melody. Stephen 'Doc' Wallace provides one of the better vocals here, displaying a strong, confident, even courageous vocal style. Jane Clare's new wave-ish back-up vocals are infectious and work very well. This is a case of an interesting arrangement and excellent performance producing a really good interpretation of a great song!
Conjunto Jardin's Conquistador is nothing less than brilliant! This is a wonderful recording that can stand on its own two feet in any context – a prime example of how to re-work a classic song, make it sound totally new, and yet retain the original's melody and structure. This track is certainly a highlight of the album.
Long Gone Geek sounds strong and free and has an 'outlaw' vocal that makes me believe that this guy spent time in that 'county jail!' This one sounds like a wild party. The Band gone wild.
Once again, a song that illuminates, rather than hides, a great melody – Roger Ilott and Penny Davies perform a beautiful rendition of Brooker's The Angler. A delicate, acoustic rendering of a very lovely song.
She Makes Me Feel is very nicely done by Ronnie D'Addario. I say 'nicely done' because – well, it just sounds so darn nice! It's a very lovely song performed with a very vulnerable quality (it almost sounds as if the song is a bit high for Ronnie's vocal range, but this actually works very well). Kudos as well, for the excellent harmony vocals on this total solo effort!
You wouldn't think that a disco version of Fellow Travellers would work. It does. Trust me. An odd juxtaposition of words and music, to be sure ... but, it does work. Really.
Tracks 16 – 20 tour through much of In Held 'Twas In I, throwing a curve here and there, and sometimes mimicking the original to an amazing degree. Of particular interest is Hulluuteni Syksy (better known to you and me as In The Autumn of My Madness), which features a nice, understated vocal by Saara, and the amazing Gary Shepard on all instruments. Gary, by the way, is impressive throughout the project and gets this year's 'I Can Do The Trower Parts' award (the last winner was Richard Beck … the first winner was Robin Trower). I agree with many commentators, by the way, about the misplaced narrative in Grand Finale.
Much more can be said, but the Internet called and told me to shut up. I could mention Larry Pennisi's clever break in Something Following Me (backward-sounding guitar – excellent organ), Dave Knight's excellent Don't Ya Like My Love, Ethan Reilly's intricate, loving instrumental version of Wreck of the Hesperus, Sev Lewkowicz' ambitious re-working of A Salty Dog. And how could I not mention Alan Edelist?! Yes, I could mention them – gee, I guess I just did.
In conclusion this CD has a lot going for it and, of course, helps keep the world's greatest website afloat. Buy yours today. You might like the songs I didn't – you might hate the ones I loved.
Like the man said, draw your own conclusions.