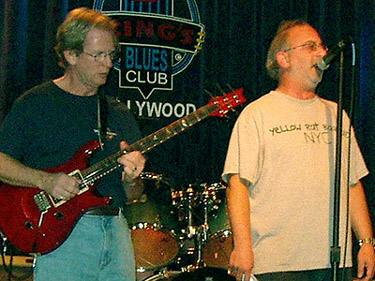 [Left to right]


Gary Shepard – all instruments
Al 'One-Eye' Edelist – vocal

AE:

When Gary Shepard came online, Larry Pennisi 'dared' him to show his musicianship on a PH track, and this was the first result.

I added the vocal to this backing track thanks to Jeremy Gilien at his LA studio, and Roland edited it down to its present form. It was heard in its full extended glory at BB King's club in LA – hence the illustration!

I know I may get some flak for changing the chorus, but just listen to the words and voice and you might figure out how it does make sense in this context.
Gary's equipment: Paul Reed Smith guitar, Korg AX1500G effects processor, Carvin 8400 powered mixer, Boss BR-1180 digital recorder, Yamaha Motif 8 keyboard, and a nameless but useful bass guitar.
Vocal recorded on Boss BR8 digital 8 track machine using AKG D950 microphone